HEAR WHAT THEY ARE BARKING ABOUT!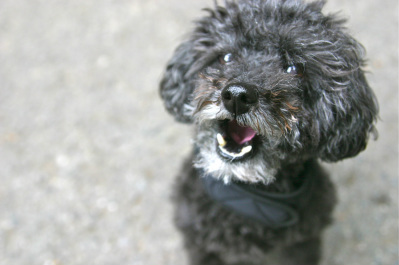 Francesca
"I very highly recommend Anissa for any dog-walking or pet care position. She has been walking my dog for the past 9 years and has always been the most responsible and trustworthy dog walker I've known. She takes my dog on long, fun and adventurous walks which makes for one exhausted and happy pup! Safety for dogs and humans is always Anissa's top priority. She genuinely loves animals and treats her clients' pets as if they were her own. She is also very knowledgeable about dog behavior and training so your dog will be safe and reinforced appropriately in her care. Mainly, your pet will have a great walk/run with Anissa and receive a lot of love and compassionate care. Any dog who gets to go on a walk with Anissa is a very lucky dog!"
-S. Sullivan
"Pluto and I highly recommend Anissa for pet sitting and dog walking, she has always treated Pluto like her own, was very reliable and caring. We both could never imagine or want anyone else taking care of Pluto so if your dog is like your child look no further you have found better than the best."
-Bernadette and Pluto S.
"I used to feel guilty when my busy schedule prevented me from taking my little girl out for the long walks she deserved. Thanks to Anissa, I no longer have those feelings -- Anissa ensures that she gets a healthy walk in the sunshine ( or fog!) every day. Anissa has proved to be indispensable both for me and my little one. She has been walking and caring for our little girl for nearly two years now and we are delighted that our precious girl gets her regular dose of fun and exercise. Anissa cares for our little girl as if she were her own and I feel so much better knowing my dog is in great hands. When I'm working or away, I no longer worry about my little girl. I'm completely confident that our dog is having a great time, and being cared for with love. If you're looking for wonderful dog walker/ pet sitter I highly recommend Anissa for the job!"
-D. Janese
"Since our Francesca has been going out with Anissa, we've noticed an overall improvement in her behavior and health. Francesca seems happier, healthier, more fit and focused. Anissa is very experienced with dogs and sensitive to our dog's individual needs. We absolutely love the fact that she will limit the amount of dogs that are in the group, allowing her to provide better individualized care and attention for Francesca while still being in the company of a few other compatible dogs. Anissa takes Francesca out on long, stimulating outings and sends us regular updates on Francesca's whereabouts and adventures. Anissa is also available if we need her to look after Francesca if we're out for the day or the evening, including pet sitting at our house if need be. We are just thrilled at having found the perfect caretaker for our Francesca!"
-T. Johnson
"Anissa has been taking our dog Frankie out on private and group walks for over one year. At first, we thought we would have her take him out only temporarily while my husband was recovering from surgery. It was clear early on that Frankie's outings with Anissa were worth every penny - he comes home so tired and he is in great shape. She took the time to get to know him and select the best and most stimulating group of dogs for him to play with. She is professional and always keeps me in the loop (I can be a nervous dog parent sometimes!). Anissa has worked with us to find the best routine for Frankie which has changed a bit over time. There is no question that she truly cares about her pack. I can tell Frankie is just as enamored with her as he listens for her car, and can barely contain himself when she arrives."
-Anne Y
"In a field that is overwhelmed by so many unqualified people, I am so glad that I found Anissa. She has the experience, the professionalism and to top it off the personal touch in dealing with dogs. She cares. I feel confident that both my girls are in good hands when I leave them with Anissa."
-S. Campbell
"Not a day goes by that I am not incredibly thankful Anissa came into our lives. She has done so much to make our lives better."
-Phil & the boys
415-595-7768
"Anissa is the best ever for one-on-one and group dog walks, and she also provides vet/groomer taxi, pet store shopping, and drop in pet care services - she does it all. She is licensed, insured, experienced and professional, and is Pet Aid and CPR Certified, a Certified Dog Walker with the Dog*Tec Academy, and has a Dog Walking Permit from SF Animal Care & Control. My young labrador Dustin loves her and cannot wait for her to come and take him for individual and group walks. It is a great feeling to know that Dustin not only has a great time with Anissa, but also that he is safe and secure with her. I highly recommend Anissa."
-S. Eisenhut
"Anissa is a rare pearl. My chihuahua mix Chelsea, the princess of the Castro, is always happy to see Anissa- she knows it's fun time!"
-. B. Banonis.
"Thanks Anissa for taking such great care of Kai. You are the best! We really appreciate all of your help."
-L. Moore
"We were lucky enough to be referred to Anissa to take our crazy pup, Zoey, out for small group walks; we liked the idea of 4 dogs per group. We immediately noticed our hyper teenager transform into a better behaved and relaxed dog. Anissa gives the dogs plenty of time to play and in a variety of locations to keep it fresh and fun. Zoey is always pooped at the end of a long walk with her buddies. We also love getting picture updates of what our little one was up to throughout the day. Thanks Anissa for taking such good care of our pup. We can see that Zoey loves you for it too!"
-Steve & Melinda
"Anissa is fantastic! She help care for our extremely energetic 7mo old cattle dog in a pinch. We needed a walker on short notice for a specific time of day and Anissa really came through. She was prompt, professional and full of smiles. She was great with our pup and was able to get him nice and tired while we were out. Anissa took time out of her schedule to meet us and our dog before the actual sitting day. It is always nice to meet a walker beforehand to discuss details prior to handing over your puppy. At the meet and greet Anissa was very professional and caring towards our puppy. She was great at keeping our him well behaved and offered well timed treats to keep calm during initial interactions. Day of the walk Anissa was very sweet, she sent tons of pics and updates throughout the day so we never had to worry about our pup. Anissa provides peace of mind and a flexible schedule which can be hard to find. We'll definitely be reaching out to Anissa for future walking needs! Thanks so much."
-Tracy, Ryan and Griswold
"
We feel incredibly lucky to have Anissa take care of our dog Boots -- she's taken care of her since she was a puppy. The concern she demonstrates with Boots goes beyond "walking." She gives us advice on food and notes any socialization issues. She's extremely careful about which dogs to add to the group and carefully and carefully considers the dynamic. She's definitely not about taking on whatever dogs she can. As a bonus you get amazing, adorable photos of your pet
Can't say enough about her skills, integrity and care!"​
-Pamela Y.
"I feel very lucky I met Anissa. She is not only a wonderful person who is passionate and believes in what she does, but she is also somebody who really cares about her clients. I've seen her not just walking dogs but teaching, engaging, playing and taking care of each of them as they were hers. She makes sure all dogs get along and can have fun interacting with each other. Boots loves her and comes home ready for a nap after a fun walk which is more like a play date with her friends. Thank you Anissa for making Boots so happy and teaching her so much!"
-Rebecca F.
"
We couldn't have wished for a better dog walker and pet sitter than Anissa! Charlie hated daycare - whimpering every time he was picked up - but with Anissa he was always jumping and making his "I'm super excited" noises. Despite his lack of training, Anissa handled him with tremendous finesse, and he always came back a bit better behaved than he left. She took him on awesome walks and frequently sent amazing photos and videos to boot. Super attached to us, there were very few people we were happy to leave him with, but we had no qualms at all about leaving Charlie with Anissa when we went on vacation for ten days. We got regular photos and it was clear that he had a great time. Anissa treated him like she would treat her own dog, worrying about his health and well-being and giving us regular updates. Having recently moved abroad, we all miss Anissa and her puppy Toby, too. Thanks for everything, Anissa!!"
💕🐶💕🐶💕🐶💕🐶
-Laura and Alex


"
We wanted to get a responsible sitter for our two pooches during our wedding day but our usuals would also be attending the wedding. Anissa came highly recommended and helped us out in a pinch by giving our pups the exercise and social attention they always crave. After receiving the royal treatment, AKA dog walks + overnight boarding, and they were still tired the following morning! Also, Mochi has never really liked crates, but he happily and willingly did when going for a field trip with Anissa and her group. Thanks again Anissa!"

-R. Adviento
---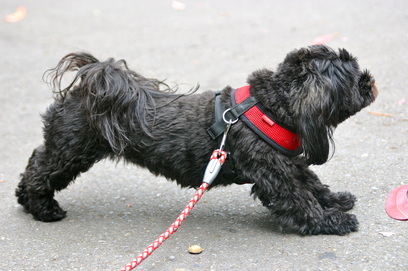 Lola, doing a pre-walk stretch
---